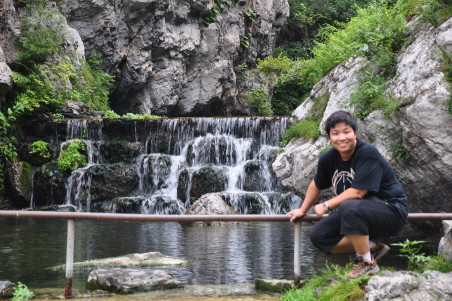 Chen Xin
Lecturer
Research Areas
Pharmaceutical analysis
Application of nanomaterials in medicine
Education & Positions
Peking University, Pharmacology, B.S., 2002.
Peking University, Pharmaceutical analysis, M.S. 2010.
Technical Institute of Physics and Chemistry, CAS, Ph.D., 2016.
Lecturer, School of Pharmaceutical Sciences, Peking University, 2002-.
Drug reviewer, Center for Drug Evaluation, CFDA, 05/2009 – 11/2009.
Faculty Accolades
Excellent teaching award of Peking University Health Science Center, 2013.
Publications
1. Xin Chen,Hong Wang, Hao Wang*, Yang Fu, Jie Liu, Runze Liu, The Radiosensitizing Effect of Nanodiamonds (NDs) on HeLa Cells Under X-Ray Irradiation, Physica Status Solidi A: Applications and Materials Science, DOI: 10.1002/pssa.201700715, First published: 15 January 2018.
2. Xin Chen, Dandan Li, Hong Wang, Yuan-yuan Jiao, Hao Wang, Yuan Yu, and Jinfang Zhi*, Fabrication of an EGF modified nanodiamonds-based anti-cancer drug targeted delivery system and drug carrier uptake visualization by 3D Raman microscopy, RSC Advances, 6(50): 44543-44551, 2016.
3. Xin Chen, Hong Wang, Dandan Li, Yuan Yu, and Jinfang Zhi*, The effect of carboxylated nanodiamond (cNDs) on the migration of HepG2 cells, Physica Status Solidi A: Applications and Materials Science, 213(8):2131-2137, 2016.
4. Peng Tan#, Xin Chen#, Ruirui He, Yonggang Liu* Analysis of the metabolites of mesaconitine in rat blood using ultra fast liquid chromatography and electrospray, Pharmacognosy Magazine, 10(38):101-105, 2014 (Co-author).
5. Xin Chen, Peng Tan, Ruirui He, Yong-gang Liu*, Study on the fragmentation pathway of the aconitine-type alkaloids under electrospray ionization tandem mass spectrometry utilizing Quantum Chemistry, Journal of Pharmaceutical Innovation, 8(2): 83-89, 2013.