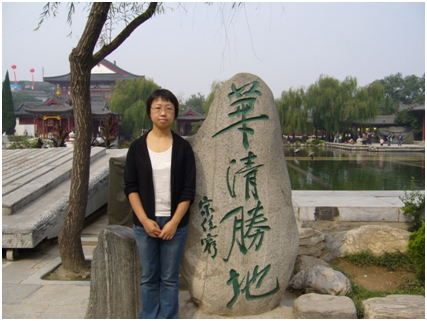 黄 健: 博士,副教授
E-Mail jhuang@bjmu.edu.cn
地址北京市海淀区学院路38号药学院306室 邮编100191
1995 年毕业于兰州大学,获理学学士学位;
1998年毕业于兰州大学,获理学硕士学位;
2005年毕业于北京大学,获药物化学博士学位;
2005年至今在北京大学药学院化学生物学系无机化学专业。
研究方向:细胞无机化学和无机药物化学;研究骨质疏松的发病机制和药物预防;研究药物对前列腺癌骨转移的抑制。
近几年发表文章:
1. 王芃, 黄健*, 张天蓝, 王夔*.氯化镧抑制人转移型雄性激素非依赖性前列腺癌细胞DU145的生长和迁移. 科学通报,2010, 55(23): 2289-2295.
2. Jian huang, Xi. Wang, Tian-lan Zhang, Kui Wang. Alterations of ovariectomized rat bone and impact of non-collagenous proteins on mineralization. Joint Bone Spine, 2009, 76(2):176-183
3. Shi Yanling, Wang Liwen, Huang Jian, Gou Baodi, Zhang Tianlan, Wang Kui. Lanthanum Suppresses Osteoblastic Differentiation Via Pertussis Toxin-Sensitive G Protein Signaling in Rat Vascular Smooth Muscle Cells. Journal of Cellular Biochemistry 2009, 108: 1184-1191
4. Wang Chen-Guang, Liao Jia-Wang, Gou Bao-Di, Huang Jian, Tang Rui-Kang, Tao Jin-Hui, Zhang Tian-Lan, Wang Kui. Crystallization at Multiple Sites inside Particles of Amorphous Calcium Phosphate. Crystal Growth Design, 2009, 9: 2620–2626.
5. Xi Wang, Jian Huang*, Tianlan Zhang , Kui Wang. Cytoskeleton reorganization and FAK phosphorylation are involved in lanthanum (III)-promoted proliferation and differentiation in rat osteoblasts. Progress in Nature Science
2009,19: 331-335
6. Xi Wang, Lan Yuan, Jian Huang*, Tian-Lan Zhang*, Kui Wang. Lanthanum Enhances in vitro Osteoblast Differentiation via Pertussis Toxin-sensitive Gi Protein and ERK Signaling Pathway. Journal of Cellular Biochemistry 2008, 105: 1307-1315
7. 王熙, 黄健*, 张天蓝, 王夔. La3 + 通过重组细胞骨架影响大鼠成骨细胞增殖、分化, 自然科学进展, 2008, 18: 1053-1057
8. Jian huang, Lan Yuan, Xi. Wang, Tian-lan Zhang, Kui Wang. Icarin and its glycosides enhance osteoblastic ,but suppress osteoclastic, differentiation and activity in vitro. Life Sciences, 2007,81(10):832-840
9. Jian Huang, Jina-Chao Zhang, Tian-Lan Zhang, Kui Wang. Icariin suppresses bone resorption activity of rabbit osteoclasts in vitro. Chinese Science Bulletin, 2007, 52(7):890-895. '
10. Jian Huang, Tian-Lan Zhang, Shan-jin Xu, Kui Wang, Jing Zhang, Ya-Ning Xie.. Effects of Lanthanum on Composition, Crystal Size and Lattice Structure of Femur Bone Mineral of Wistar Rats. Calcif Tissue Int, 2006 78(4):241–247
11. 黄健, 张金超,张天蓝, 许善锦,王夔. 淫羊霍苷对破骨细胞骨吸收功能的影响及其作用机制研究. 科学通报, 2006, 51(24):2851-2856