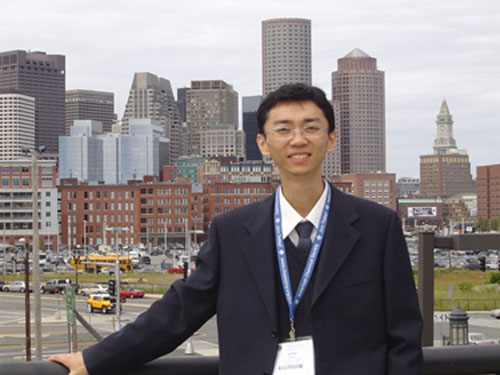 Dong Suwei
Assistant Professor
Research Areas
Education & Positions
Peking University, B.S., 2005.
Boston University, Ph.D., 2010.
Memorial Sloan-Kettering Cancer Center, Postdoctoral Scholar, 2010-2013.
Peking University, Assistant Professor 2013-.
Investigator, State Key Laboratory of Natural and Biomimetic Drugs, 2013-.
Awards & Honors
Chinese Pharmaceutical Association Servier Young Medicinal Chemist Award 2018.
Asian Core Program/Advanced Research Network Lectureship Award 2017.
Excellent Youth Experts of Beijing 2017.
14th Chinese International Peptide Symposium (CPS2016) Young Peptide Scientist Award 2016.
Research Interests
Our research program has been focusing on chemical synthesis of glycopeptides and glycoproteins, and the utilization of obtained homogeneous molecules in probing biological problems, which include: (1) Study and develop new methodologies and strategies for the synthesis of glycopeptides and glycoproteins; (2) Study glycan functions through homogeneous glycoproteins obtained via chemical synthesis; (3) Engineering of therapeutic polypeptides and proteins via chemical synthesis.
Grants & Fundings
Ministry of Science and Technology (2018YFA0507602).
National Natural Science Foundation of China (21672012, 21502005).
Selected Publications
1. Wang, Y.; Han, L.; Yuan, N.; Wang, H.; Li, H.; Liu, J.; Chen, H.; Zhang, Q.*; Dong, S.*"Traceless β-mercaptan-assisted activation of valinyl benzimidazolinones in peptide ligations" Chem. Sci. 2018, 9, 1940-1946.
2. Gui, Y.; Qiu, L.; Li, Y.; Li, H.; Dong, S.*"Internal Activation of Peptidyl Prolyl Thioesters in Native Chemical Ligation" J. Am. Chem. Soc, 2016, 138, 4890-4899.
3. Wang, P.+; Dong, S.+(+equal contribution); Shieh, J.-H.; Peguero, E.; Hendrickson, R.; Moore, M. A. S.; Danishefsky, S. J.*"Erythropoietin Derived by Chemical Synthesis" Science, 2013, 342, 1357-1360.